Children's Hospital of Richmond at VCU receives $10,000 from Rite Aid Healthy Futures to expand equitable care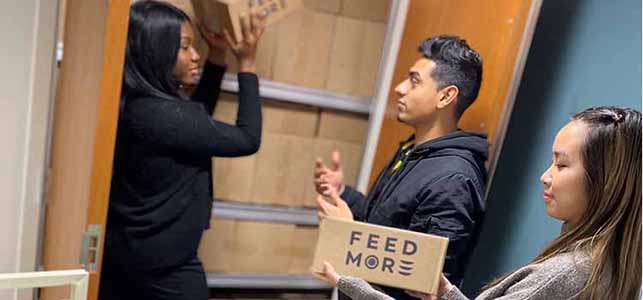 Children's Hospital of Richmond at VCU has received a $10,000 grant from Rite Aid Healthy Futures, designed to help expand equitable care and improve health outcomes for children in underserved and vulnerable neighborhoods.
The funding comes through the charity's Connecting Communities signature initiative and is part of an overall $3 million investment in more than 30 children's hospitals serving Rite Aid communities. The goal of Connecting Communities is to help major institutions like children's hospitals collaborate with the neighborhoods around them in new and deeper ways, and ultimately connect people and places with the resources needed to advance health and racial equity. 
Initial funding will support a wide range of hospitals and their community-based programs across 15 states. Funded programs concentrate on screening for food insecurity, food distribution and nutrition education, and aim to help eliminate root obstacles that keep communities from achieving health and wellness.
About Food is Medicine
The Food is Medicine (FIM) pilot program is a partnership between VCU Health and Central Virginia's core hunger-relief organization, Feed More, that launched in four units of Children's Hospital of Richmond at VCU (CHoR) in July2021. This pilot program addresses food insecurity through screening, on-site food distribution, connection to Feed More's Hunger Hotline for local pantry connections, and referrals to long-term resources including WIC (Special Supplemental Nutrition Program for Women, Infants, and Children) and SNAP (Supplemental Nutrition Assistance Program). This project has been made possible through a grant to Feed More from the Anthem Blue Cross and BlueShield Foundation.
The four CHoR units currently participating in the Food is Medicine program include one inpatient unit — Acute Care Pediatrics and three ambulatory units — General Pediatrics, Pediatric Endocrinology and Pediatric Nephrology. All four units have determined their target population and integrated three food insecurity screening questions into their clinic workflow; two retrospective questions to determine if families had a food need in the past twelve months and one question to determine if they have an immediate food need. Families who screen positive for a retrospective food need receive an informational postcard for Feed More or information on the food bank closest to their home if they live outside of the Feed More catchment area. Families who screen positive for an immediate food need work with Social Work and Care Coordination team members who provide them with one or more food boxes that contain 3-4 days' worth of heart healthy, shelf-stable items packaged by Feed More, including but not limited to rice, canned tuna, oatmeal, and powdered milk. In addition, a referral is completed to Feed More's Hunger Hotline so that families can be connected with food pantries in their neighborhoods for ongoing access to nutritious foods. Social work and care coordination team members also discuss eligibility for federal nutrition programs with families, such as SNAP and WIC, to ensure long-term access to healthy food and nutrition support. The Rite Aid grant will support the program as it continues to be developed.
Support from Rite Aid
The grants are funded through Rite Aid's KidCents fundraising program. Generous Rite Aid customers can round up their purchases online or in-store to support children's health and wellness. Healthy Futures reinvests the funds into Rite Aid communities through programs like Connecting Communities.
"Expanding equitable care doesn't start in the emergency room. It starts in our neighborhoods," said Matt DeCamara, executive director of Rite Aid Healthy Futures. "Though the needs are great, so are the opportunities for progress. Children's hospitals already play a critical role delivering vital medical care, and many of these institutions have developed impactful programs to serve kids, families and communities in ways that extend beyond traditional medical care. Working together, we can ensure everyone has what they need to live longer, healthier lives."